THE LUNATICS EXHIBITION
"PINK FLOYD 1967-68: DALL'UFO AL PIPER"
ROMA 19 Apr. 2018
Piper Club
evento "50th Anniversary PINK FLOYD Back to Piper Club"
con EUGENE & THE PINK FLOYD SOUND live in concert
 
SERVIZI FOTOGRAFICI
 
I servizi fotografici sono di:
Danilo Steffanina (gallery 1-3)
Eva Di Mare (gallery 4)
Le fotografie presentate sono state gentilmente offerte dagli autori, detentori del copyright. Di tali foto č assolutamente vietata la riproduzione, duplicazione, stampa e trasmissione, senza il consenso scritto del proprietario (e comunque del webmaster).
PRESS & WEB NEWS   
DOCUMENTI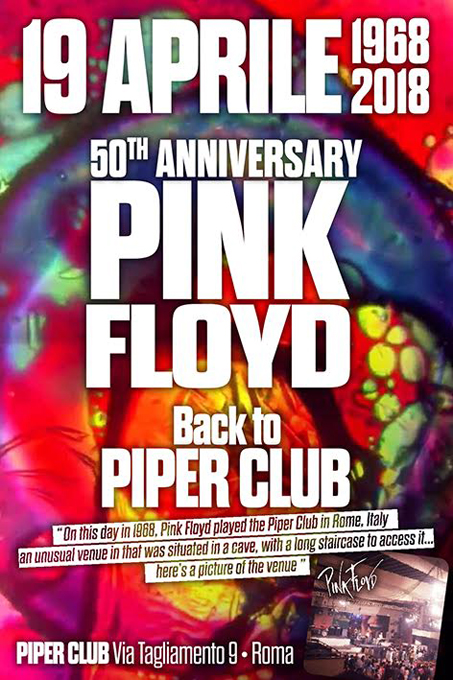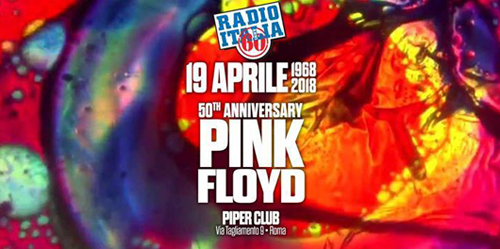 Ringraziamenti a:
Giancarlo Bornigia
Eugene & The Pink Floyd Sound
i Fholks (una delle band che aprirono il concerto dei Pink Floyd)
Marina Poletti
Marco Sersale e Costanzo Di Giovanni testimoni di uno dei concerti dell'aprile 1968, per aver condiviso con noi aneddoti e ricordi
THE LUNATICS (Stefano Tarquini, Nino Gatti, Stefano Girolami, Danilo Steffanina, Riccardo Verani)